Am I the right copywriter for you?
Anyone can claim to be a copywriter. It's not like passing the bar exam or graduating with a degree, there's no industry standard or qualification (Although, I did complete a gruellling, part-time programme over eight months called CopySchool). So, despite the fact that I've been doing this copywriting thing for a very long time and been employed as a Copywriter as well as self-employed, how could you tell if I'm any good at it?
Let me introduce you to third-party endorsement. Third-party endorsement is a useful addition to your marketing toolkit. Rather than me telling you that I'm really good at what I do, someone else does it. You see this at work with testimonials. Others endorse. They tell the story. They give recommendations or provide a professional basis that allows you to judge for yourself.
In this case, the third party is a guy named Perry Marshall.
Who is Perry Marshall?
According to his bio, he's 'an American business consultant, and author of books on marketing, business strategy, communications technology, and evolution'.
Perry Marshall is one of the most expensive business strategists in the world. He is endorsed in FORBES and INC Magazine and has authored eight books. At London's Royal Society he announced the world's largest science research challenge, the $10 million Evolution 2.0 Prize. His reinvention of the Pareto Principle is published in Harvard Business Review, and his Google book laid the foundations for the $100 billion Pay Per Click industry. He has a degree in Engineering and lives with his family in Chicago.
Marketing maverick Dan Kennedy says, "If you don't know who Perry Marshall is — unforgivable. Perry's an honest man in a field rife with charlatans."
(See that there? That's third-party endorsement. "Don't listen to me, listen to Dan. Cos he knows his sh*t")
The Marketing DNA Test
Until recently, my knowledge of Perry was in the unforgivable zone. Until I was introduced to him by a member of an online group I'm part of, the Clever Copywriting Community. We're a group of like-minded scribes who get together on Facebook forums to discuss the use of the Oxford comma and how to deal with dangling participles. We also talk SEO, brand strategy, positioning, imposter syndrome and marketing in general.
One of the members recommended Perry Marshall's Marketing DNA Test, which analyses your communication strengths and gives you a score across various metrics based on your natural preferences. It was $29. Ah, now, I'm beginning to get a few hints as to why Perry is such a wealthy dude.
I was interested. It sounded legit. Others had done it and found the results fascinating and recommended it. But would it turn out that I was suited to copywriting? Turns out I'm doing something I should be doing.
So, what am I good at? And is it actually copywriting?
Well, according to the report, I should actively pursue:
Copywriting, scripting, emotional selling, negotiating, public speaking.

High-wire publicity stunts, blockbuster products, product launches, product formulation, deal-making.

Writing, information marketing, personality-driven marketing, innovation, invention, product creation (especially the early stages) as well as the finishing touches on the scripting of marketing messages.

Scripting sales presentations, brand strategy, crafting emotional appeals, "reading customers a page in their own diary", engineering lasting impressions.
Whew.
Seems I've been on the right track all along then. Copywriting is my superpower. Maybe even my spirit animal.
The report also notes:
Strength Index
Chameleon: The difference between your strengths and weaknesses is smaller than it is for most people. This means you likely play a mediating role between team members and you have the ability to wear multiple hats more easily than others.

Starter vs. Finisher
You're right in the middle. You can do either when called for and often play a mediating role. You are neither impromptu not scripted; you're most comfortable with a "normal" rate of change.

Facts vs. Emotions
Subjective: You are more attuned to emotions, feelings and subjectivity than facts and data.
What communication strengths should a copywriter have?
At the risk of sounding gushy, it goes on to say:
The communication strengths you most naturally lead with are:
Turn of Phrase Artist
You have a gift for turns of phrase. You have an ability to encapsulate situations and feelings into words that
is rare. Your quotes are quotable. You could be a poet, a psalmist or a lyricist.
Matters of the heart, which elude analytical people, are your forte. This means you can walk into a room full of people and not only sense the atmosphere and mood, you can describe it and even alter it by saying surprisingly little.
Many times people don't even know why they buy from you. But what's important to them is that they feel
understood.
That's because, as a copywriter, you have a unique ability to speak "heart logic" which is entirely different from "head logic." In tandem with analytical people, who help steer the ship and evaluate results, as well as producers and alchemists, you can build enormously successful businesses.
Inventor / Soul Mate
You understand the creative use of emotional power. For you, the power of marketing is in the hidden
conversation inside the customer's head, which you not only discern but take to a new level. And you understand
how to harness their inner fantasies and secret desires, to a level that's almost psychic and sometimes a little
bit scary.
Inventor / Wordsmith
Many times you don't know what you think about something until you write about it or talk it through with
others. A creative stream comes from your heart and as you verbalize, you tap into an inner well of insight
and generative power. You could sit in meetings and strategise all day long, but the shape of your plans don't
truly take form until you put them into words.
As a copywriter, you're not merely skilled in putting words together but in crafting offers and even entire worlds that sound desirable.
Gone With The Wind
Importantly, you know that even though people may forget what you said, they remember how you said it. You hate to be remembered for hurting people's feelings. People recall how they felt when they were with you. You compose
the most important part of the story, which is the fleshy, human, messy part.
However, while you need other Alchemists to create the environment you live in; you also need producers and analysts to pull off the technical details. That's because only with them in place are you comfortable engaging with the drama.
Frankly, my dear, I give a damn about those I work with.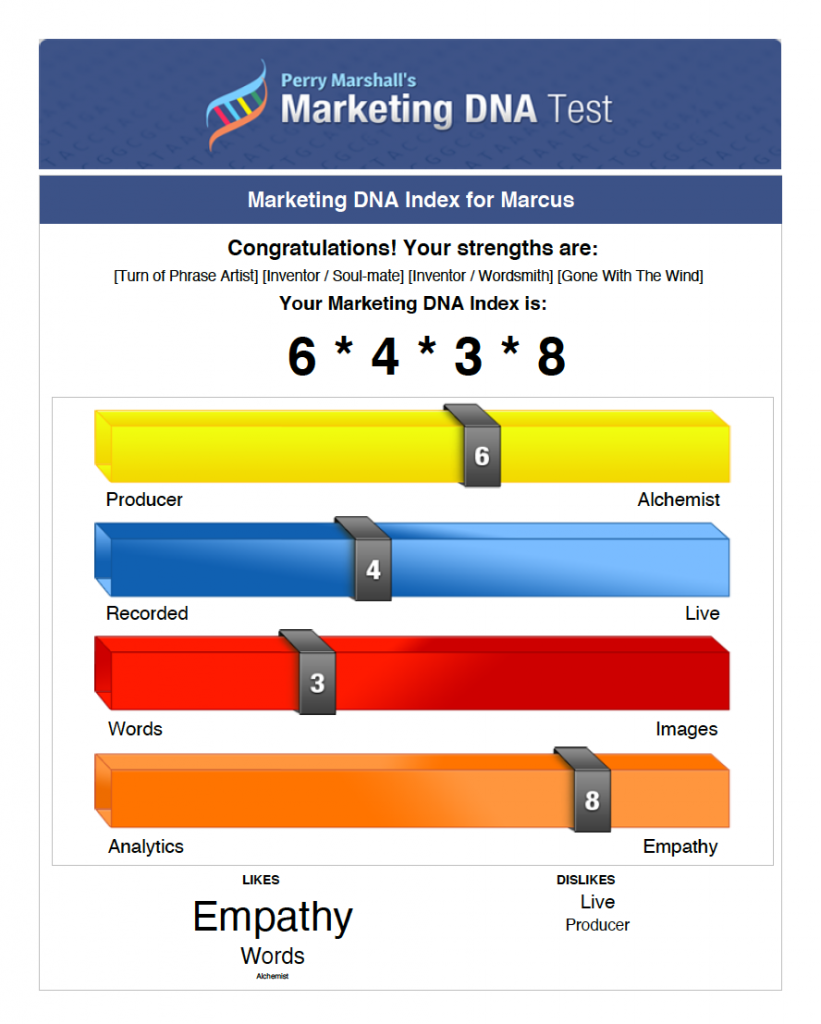 A copywriter can be a useful chameleon
I feel better after that. I feel like a business alchemist who uses words and empathy to deliver messages that cut through with just the right emotional effect. A useful chameleon who can make memorable things from words and images. Copywriting is definitely my thing.
If you agree that Perry Marshall and his Marketing DNA Test have some solid insights into what makes a good copywriter, I might be right for you.
If you'd like to know more about the power of third-party endorsement or what I do as a copywriter and how I've helped some of Australia's great brands move up the success ladder, feel free to call me on 0407770092.